Robotic palletizing solutions
Palletizing robot at your company: more income due to high speed and accuracy of work.
Palletizing robot stacks objects of different volume and weight onto pallets. These can be parts, closed and open boxes, bags with any contents – different in weight and dimensions.
99% accuracy
stacking on
a pallet
20 years
average lifespan
of operation
24/7 palletizer robot
operation
1+ year
average return
on investment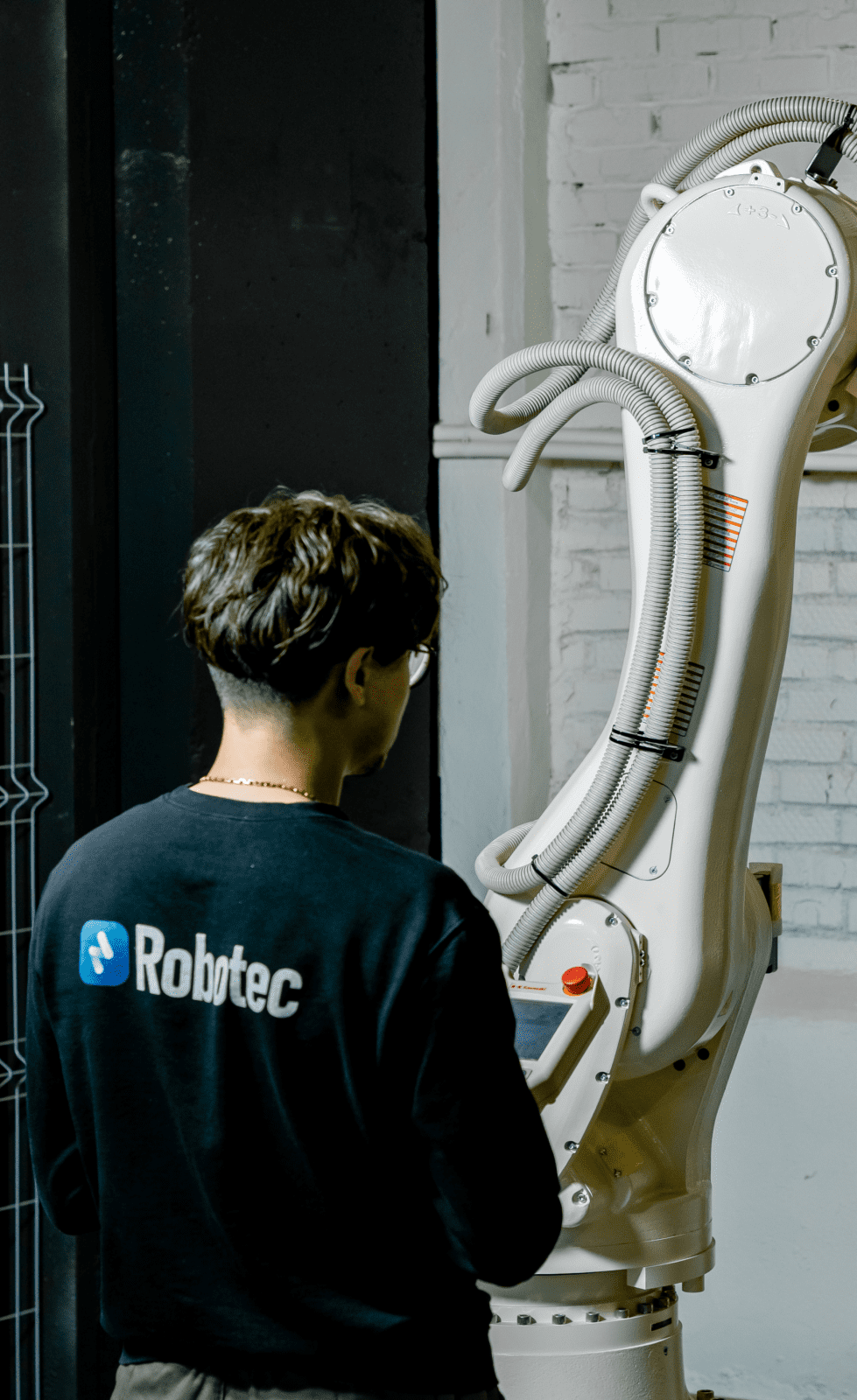 Industries
Palletizing robots can be applied in any industry that requires automated
stacking and packaging of products onto pallets.
Food production and packaging: Palletizing robots are used for automatic
stacking of products onto pallets, increasing efficiency and packaging
speed. Beverage production: Palletizing robots can automatically place bottles or
cans of beverages onto pallets, simplifying the packaging process and
reducing errors. Pharmaceutical production: Palletizing robots can be used to automatically
stack boxes of medications onto pallets, ensuring accuracy and reliability in
packaging. Automotive production: Palletizing robots can be used to stack automotive
components onto pallets, reducing time and effort required for manual stacking. Construction materials production: Palletizing robots can be used for automatic
stacking of bricks, blocks, or tiles onto pallets, enhancing efficiency and safety
in the process.

Features of palletizing robots
Palletizing robots are accurate, fast, economical and easy to maintain. With them, you will be able to increase efficiency, be technically ready to increases in production (assembly) volumes if necessary, without resorting to hiring additional personnel and immersing them in the production / workflow and as a result earn more.
Palletizing robots precisely, quickly and accurately load (unload) products of different shapes and sizes onto pallets. Robots, equipped with a multifunctional gripper, cope with dozens of combinations of packaging layouts and products on a pallet. They "know" what to do in case of distortions, falling or damage to the object / product.
Due to different varieties of grippers, one robot can be used for different types of palletizing operations. For example, there are "supporting" grippers for bags, vacuum and magnetic grippers for smooth, ribbed or non-standard shaped objects.
Palletizers from Robotec have a fast processing cycle, high load capacity and precision of movements, are ergonomic and occupy minimal area of available workspace. This allows for shorter cycle times and significant increases in productivity.
Robots can have different sizes, class of precision, movement speed, load capacity, 3 or more axes of movement.
For the modernization of production, both ready-made standard models and non-standard personal solutions are available to you, taking into account the peculiarities of your production processes.
Robotec specialists will calculate which characteristics of palletizing robots are optimal for your task, focusing on maximum benefit and quick cost recovery. You will be able to robotize a large number of production processes with a wide range of loads.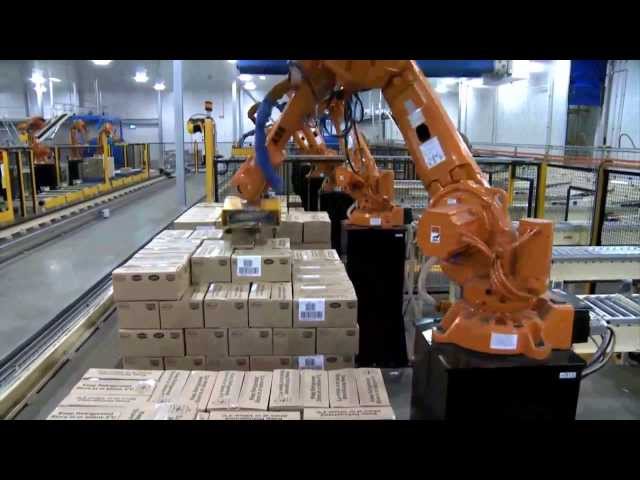 ​Advantages for your business
Having decided to implement a robotic palletizing system into your production process, warehouse or logistics complex, your business receives a number of advantages:
the process of palletizing

is accelerated several times (up to 1500 or more cycles per hour);

it is possible to work with oversized

and super-heavy loads/products;

you can use minimal space for the operation

of the system;

the algorithm and accuracy of palletizing

are strictly controlled;

the percentage of defects is reduced

the integrity of products and packaging is preserved;

the consistency of loading and unloading

processes increases;

the production capacity increases

due to the increase in the throughput of conveyors and machinery;

the staff is freed from heavy monotonous, hazardous work

and can be involved in other work processes

production safety increase

productivity and economic efficiency are improved

continuous 24/7 operation is possible.
​How to determine whether you need robotization?
You will benefit from the robotization if:
you are engaged in serial production;

technological processes are cyclical, repeated;

production lines, conveyors are operated by people;

the dimensions and weight of the products are large;

2 or more people participate in one palletizing operation;

there is an increased risk of occupational injury;

working conditions are harmful, dangerous to human health;

there are limitations to production capacity;

you lose money due to a large number of defects, damage to the goods at the packaging stage.
Find out exactly how much you will spend and what benefits you will get from the introduction of palletizing robots. Robotec specialists will calculate these indicators and name the cost recovery period for your project.
How to implement robotics into your business
Robotec specialists will help introduce and master high-quality palletizing robots with a wide range of payload and reach.
We will design a palletizing system that is profitable for you. We will train your employees in robot and software operation.
We will provide recommendations on how to achieve the investment pay off of your robotic solution in the shortest possible time.
Contact our specialists and specify the details.
Contacts