Robotic welding solutions
Robotic welding: perfect seam, increased productivity, economy of materials and electricity.
In the struggle for competitive advantage, entrepreneurs are actively mastering high-speed automated digital production.
According to the McKinsey Global Institute (MGI), the savings in operating costs from production automation in general can range from 15% to 90%, depending on the industry.
30% reduction in
production
costs
20 years
average lifespan
of operation
24/7 welding robot
operation
6 months
average return
on investment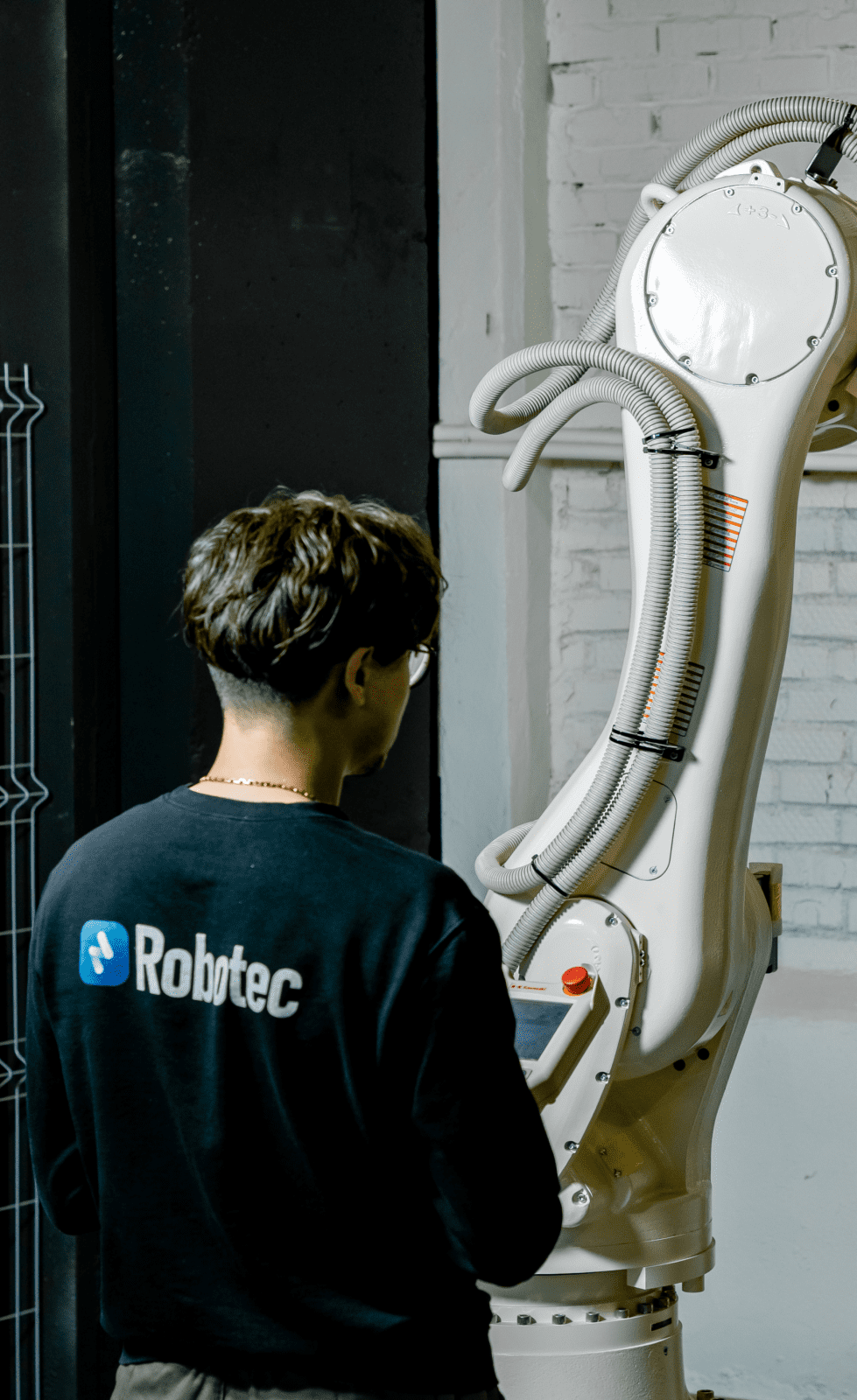 Industries
Robots are used for welding small, compact parts, aswell as bulky,
massive objects of any design made from metal, alloys, plastic and
other materials.Used in
Types of welding robots
Robotec has experience in successful implementation and integration of welding robots for:
Laser welding - LBW

Spot Welding - RWS

Plasma welding - PAW

Arc welding - MIG/MAG

TIG

Flux welding

welding with a refractory tungsten electrode in an inert gas environment

Gas welding

gas welding Oxyacetylene welding
How to introduce robotics to your business
"Robotec" specialists help to introduce welding robots to your business. You will receive a profitable ready-made or an individual solution for your task. We will provide an estimate and recommendations on how to quickly pay off your investment into the robotic installation.
How will our joint work take place:
We will conduct a study into the necessity and feasibility of robotized welding. During the visit to your production site, our specialists will study the features of the current production process, assess the risks and opportunities for making technological changes;

We will design a realistic 3D model of a robotic solution in a software environment;

We will conduct testing in real conditions, present the test results, discuss the project;

We will manufacture, install, configure and launch the integrated robotic welding solution;

We will train your staff how to operate the installation, reprogram the robot for new production conditions and alternative types of welding.

At the request of the customer, we provide service and support.
Positive economic effect and other advantages of robotized welding
reducing the duration and ensuring the continuity of the technological process;

economy of working space, electricity;

freeing working personnel for other tasks;

increasing output per unit of time;

Improving product quality;

reducing the percentage of defects and the amount of work needed to correct them.
The absolute advantage of the robot welder is the ability to work with difficult-to-access welds, and seams that require rotating the torch to weld, which is practically unattainable with a manual process. Due to the extensive capabilities of the modern interface, the robot can accurately weld straight, curved, circular seams of any geometry and complexity. The variety of modern robotized equipment and the capabilities of developers of robotized systems "from scratch" make it possible to successfully select integrated solutions for specific materials and production tasks.
Contacts